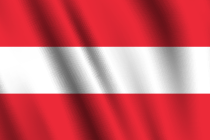 Austria
The total country population of Austria: 8,900,000
Determining how many Jews live in a particular place is often more complicated than it seems. The challenge is all about where to draw the boundary between who is and is not Jewish. Jews themselves differ on inclusion and exclusion criteria, and depending on the reason behind the enquiry, there may be a compelling case for choosing one definition over another. 
JPR uses four key definitions to describe the size of the Jewish population in different countries: 'Core' Jewish population; Population with Jewish parents; 'Enlarged' population; and 'Law of Return' Jewish population. Click the + signs to find out what each definition means.
How many Jews live in Austria?
Core Jewish population of Austria: 10,300
The "core" Jewish population includes people who self-identify as Jewish in social surveys, and do not have another monotheistic religion. It also includes people who may not recognise themselves as Jewish, but have Jewish parents and have not adopted a different religious identity. It further includes all converts to Judaism by any procedure, as well as other people who declare themselves to be Jewish even without having undergone conversion.
Population with Jewish parents in Austria: 14,000
Everyone within the core Jewish population is included, but so is anyone born to at least one Jewish parent – mother or father – who considers themselves to be partly Jewish. This population measure is quite a recent addition to Jewish demographic analysis and was developed in response to the desire within parts of the Jewish community to be more open and inclusive to the growing number of people who have this partial relationship to Jewishness due to their mixed parentage.
Enlarged Jewish population of Austria: 18,000
This figure includes the sum of (a) the 'core' Jewish population of a certain country; (b) all people with Jewish parents who do not self-identify as Jews today; and (c) all their non-Jewish household members (spouses, children etc.)
Law of Return Jewish population of Austria: 33,000
The right to claim Israeli citizenship applies to anybody who descends from at least one Jewish grandparent, and it extends to the immediate families of those individuals as well. This legislation may be particularly pertinent if Jews in a certain country see a reason to activate this right and immigrate to Israel.
A few facts about the Jewish population in Austria
Austria's core Jewish population's size ranks 24th in the world
No. of Jews per 1,000 in the population of Austria: 1.16